About Dental Crowns in Gaithersburg, MD
Over time our teeth begin to weaken and become more susceptible to problems such as Decay, Cracks, Discoloration and other. If you feel your smile isn't what it once was, crowns can help you recover your smile. If your dentist notices that a tooth is decayed or seems weakened/cracked a crown may be necessary to make sure that there are no additional problems with the tooth. In cases like this a filling or bonding will not be sufficient.
Crowns are one of the most versatile dental restorations available. They provide a natural looking, affordable and attractive solution for many of the most common cosmetic and general dentistry problems. They are also widely used to replace missing teeth as part of a bridge. Crowns are designed to match the texture and color of your natural teeth, and can improve the quality of your smile without drastically altering the characteristics that make it unique. Alice Lau, D.M.D in Gaithersburg, MD, offers a variety of cosmetic dentistry services.
Crowning or Capping a Tooth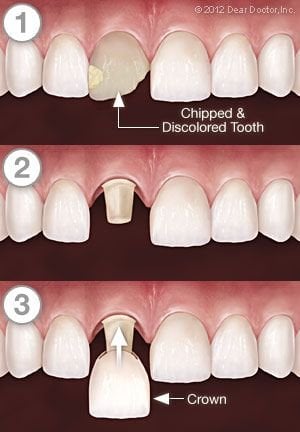 Crowning or capping a tooth will usually take two to three visits. At the first visit, your tooth is prepared to receive its new crown. First, it is shaped to fit inside the new covering. This will involve some drilling to give the tooth a uniform shape. The tooth and the surrounding area will be numbed beforehand. If there is very little tooth structure left to begin with, the tooth may have to be built up with filling material, rather than filed down, to support the crown.
After the tooth is prepared, impressions of your teeth are taken, either digitally or with reliable, putty-like impression materials, and sent to the dental laboratory. There, the impressions will be used to make models of your teeth for the creation of a crown. The models will serve as guides to the highly skilled lab technicians, who will ensure that your new crown is designed to enhance your smile and function well within your bite.
Before you leave the office, a temporary crown will be attached to your tooth to protect it until the permanent crown is ready. At the second visit, your permanent crown will be attached to your tooth with either a resin that hardens when exposed to a special light source, or a type of permanent cement.
How Long Do Dental Crowns Last?

Crowns are designed to be durable and withstand the every day strains and pressure that we experience with natural teeth, like biting, chewing and habits like teeth grinding during sleep. The lifespan of a crown will vary from person to person, but the general range is anywhere between 5 - 15 years. Some can last much longer, while others may need maintenance after just a few years.


If you have damaged or decayed teeth that need restoration, a dental crown can help save your tooth! Call our Gaithersburg, MD office today
at (301) 921-8899 for a consultation or to book an appointment!


We also provide services to patients from Germantown, MD, Rockville, MD and other surrounding areas.